Welcome to Whitsbury Village Website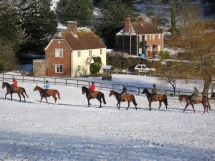 Here you will find information about our community. This website is intended to be a resource and knowledge hub for residents and visitors and anyone else who has an interest in Whitsbury. The Tabs on the left of this page will take you to sub pages of interest.
Latest Update: 28th September 2020
Village News and Notices
Broadband Outages

There are broadband outages occuring in the vlllage. Checks with BT have indicated a fix will not be in place until 1st October. If you are losing broadband and your router is frequently resetting this is the most likely cause. We'll continue monitor this after the 1st of October see also, other article on broadband further down.

ROYAL BRITISH LEGION DAMERHAM AND WESTERN DOWNLAND BRANCH - SECRETARY

Our local RBL Branch is seeking a new volunteer Secretary to take over the appointment this autumn. The role is important but relatively undemanding, consisting of organising two annual meetings and Branch Remembrance participation in November each year, and currently, an annual Branch Poppy Appeal fundraising coffee morning. The Secretary also acts as a focal point for RBL matters. The position requires reasonable organisational and computer skills, and some proactive initiative. This is a real opportunity to assist a charity that makes an impact, and to take up an interesting volunteer activity. Job seekers should find that such charity work enhances their CV.

Anyone can apply. You don't have to have served in the Armed Forces but would be expected to become an RBL member at, currently, £17 per year. Membership money is used to fund the RBL nationally and to contribute to the RBL's mission; to provide lifelong support to serving and ex-serving personnel and their families. You can read all about this valuable charity and its work at:

www.britishlegion.org.uk

.

To apply or just to find out more, please contact the current Secretary, Mike Richardson, by email:

rbl.damerham@btinternet.com

.

<![if !vml]> <![endif]>

New Parish Council Minutes and Financial Statement for 2019/2020 available

Parish Council meeting minutes

here

See Parish Council page for full details

All of the Covid 19 Help information has been moved from this page to it's own page which can be accessed on the Covid 19 Help tab and

here

New Edition of The Courier Available

The Aug - Sept edition is available

here

Church Services have now resumed at St Leonards which is also available for individual reflection and prayer (Wednesdays and Sundays). See St Leonards page and events for church services including Zoom Services

Somerley Recycling Centre

The Somerley recycling centre now requires pre-booking before arrival. A time slot can be booked here, click the link

Whitsbury Broadband Connection - Good or Bad ?

How well does your Whitsbury broadband connection work?
There have been reports of the line dropping out and the home hub box re-synchronising between 5 and 10 times a day - does that happen to you?
If it does please let us know as we want to apply pressure to BT if there is a general issue. The more evidence we have the more compelling the case.

If you are experiencing problems please drop a note to Geoff Dominey who is collecting information on local issues, please e-mail

broadband@whitsbury.com

Please be considerate over bonfires!

We continue to receive complaints of some residents burning their waste on bonfires. We would ask that residents be considerate to their neighbours and avoid having garden bonfires at this time.
Smoke from bonfires can aggravate health issues for vulnerable residents, cause additional stress to those trying to enjoy their outside space, and the risk from uncontrolled fires could impact on an already stretched fire service.
If you are subjected to the above; then, to maintain good neighbour relations, you may wish to discuss the matter with your neighbour(s) or the manager etc. of the neighbouring premises if it is a business, as they may not be aware that there is a problem.

NFDC advise residents to store their waste until it can be collected or composted. Should frequent bonfires which impact on another property continue to occur, residents may wish to make a formal complaint see

http://www.nfdc.gov.uk/bonfires

if it is a constant problem.

Whitsbury Newsletter

Village Show The 2020 Show was cancelled due to Covid-19 and will be run in 2021. Date to follow.

Household Waste Recycling Centre - Car Registration

Hampshire County Council are changing the ways that we are allowed to use Household Waste Recycling Centres such as Somerley. The centres will be installing Automatic Number Plate Recognition (ANPR) systems which will automatically check the council database for your registration. There is a need to pre-register your car. If your car is not registered there will be a £5 charge per visit. The £5 charge will apply to all those not registered or visiting from outside the Hampshire catchment area.

The link to register vehicles is
Whitsbury Calendar

With the cancellation of the Village Show we will defer the calendar until 2022. The calendar will be for the calendar year 2022. So we would like to ask everyone in the village to get involved and submit a photograph or two taken around the village that encompasses something of the village feel, a village landmark or favourite village view. A flyer as shown below has been circulated to all houses in the village and a new e-mail account set up at calendar@whitsbury.com to send entries or ask questions.

Events and Activities

If anyone wants to share an event please send an e-mail to admin@whitsbury.com with details and we can publish via these pages.

Viewing tips: Recent site changes are shown at the foot of this page if you go to a page and it doesn't seem to have updated if you 'Refresh' your browser the changes should become visible.
Upcoming Events
| | | | |
| --- | --- | --- | --- |
| Date | Description | Location | Time |
Site Updates and Recent Changes
02/08/2020 - Church Services updated and New edition of The courier added
14/08/20 - Parish Council page updated, mintes and accounts added
07/09/20 Events updated
28/09/20 Events Updated, Broadband outages