Welcome to Whitsbury Village Website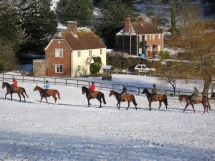 Here you will find information about our community. This website is intended to be a resource and knowledge hub for residents and visitors and anyone else who has an interest in Whitsbury.
Village News and Notices
A handy guide to avoid scammers is now included in the Whitsbury Watch page.

A new edition of the Courier, covering August and September is available on the St Leonards Church page.

Parish Council Meeting Minutes and accounts added to the Parish Council page

Parish Council documentation archive page added. These are provided for reference in case you need to check the minutes from a previous Parish Council Meeting

Environmental Change and Global Warming

None of us can fail to notice the change in the environemnt and it's impact around the world.

We had an excellent discussion on climate change at the Parish Council Meeting on Monday 29th July. We are setting up a working group to look to see how the village can decrease it's carbon footprint and play our part in helping reduce global warmining and help the environment. Watch this space for more information in coming months.An environment page has been added and this will be populated with items as we develop and implement our ideas.

New item added to Sell or Swop page

Whitsbury Calendar

The next Village Show will be in 2020 and we wanted to do something different in preparation for that show which is to ceate a village calendar with photographs taken within the village boundary. The calendar will be for the calendar year 2021. So we would like to ask everyone in the village to get involved and submit a photograph or two taken around the village that encompasses something of the village feel, a village landmark or favourite village view. A flyer as shown below has been circulated to all houses in the village and a new e-mail account set up at calendar@whitsbury.com to send entries or ask questions.

The Cartwheel has now reopened following refurbishment see http://cartwheelinnwhitsbury.com/ for opening times. It will be open Thurs, Fri, Sat and Sun. Best to call ahead for a table 01725 518362.

Events and Activities

If anyone wants to share an event please send an e-mail to admin@whitsbury.com with details and we can publish via these pages.

Viewing tips: Recent site changes are shown at the foot of this page if you go to a page and it doesn't seem to have updated if you 'Refresh' your browser the changes should become visible.
Upcoming Events
| | | | |
| --- | --- | --- | --- |
| Date | Description | Location | Time |
| 25th Aug 2019 | Parish Worship | St Leonards | 11:00 |
| 8th Sep 2019 | Holy Communion (1662) | St Leonards | 08:30 |
| 22nd Sep 2019 | Parish Worship | St Leonards | 11:00 |
| 6th Oct 2019 | Harvest Thanksgiving | St Leonards | 11:00 |
| 19th Oct 2019 | Macmillan Coffee Morning | Village Hall | 10:00 to 12:00 |
| 28th October 2019 | Parish Council Meeting | Village Hall | 19:00 |
| 1st November 2019 | Bingo: Tickets £6 and includes food (19:00 for 19:30) | Village Hall | 19:00 |
| 13th December 2019 | Sandleheath Band Concert - Tickets £4 including light refreshments | Village Hall | 19:00 |
| | | | |
| | | | |
Please note: All tickets for the ticketed events must be paid for in advance for catering purposes. Pease advise if you have any dietary requirements/allergies so we can cater for your needs. To purchase tickets please contact Shirley Ellicot on 265.
Site Updates and Recent Changes
21/07/2019 Events updated Phase 2 of road works deleted, Damerham Fair added
29/07/2019 Courier added to St Leonards Page, events updated
03/08/2019 Parish Council Minutes added, Sale or Swop updated
18/08/2019 Events updated, Little book of scams added to the Whitsbury Watch page