Welcome to Whitsbury Village Website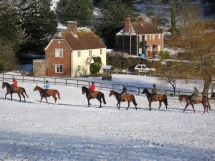 Here you will find information about our community. This website is intended to be a resource and knowledge hub for residents and visitors and anyone else who has an interest in Whitsbury. The Tabs on the left of this page will take you to sub pages of interest.
Latest Update: 8th October 2021
Village News and Notices
Village Hall Events Cancelled due to COVID

The Bingo scheduled for 12th Novenber has been cancelled

The Christmas Concert scheduled for 3rd December has been cancelled

It is with much regret that we have taken the difficult decision of cancelling the above two events. The need to create additional space and distancing does not allow them to be held.

Summer Newsletter Available

We hope you enjoy the latest village newsletter it will be delivered to all houses in the village as a paper version.

If you would prefer an electronic version a PDF version can be

downloaded here

.

New Edition of the Courier Available

The August/September edition of The Courier can be found on the St Leonards Church page or

click here

Parish Council Information
Support as we Resume Normality

If anyone in the village needs any support during this latest lockdown such as shopping, prescription pick up, or a phone chat etc then please let us know contact a Whitsbury Helper or contact us through

admin@whitsbury.com

and we will help as we can. it's great to be in such a close community so we are here to help each other.

Whitsbury Helpers are Steve Husher, Charlotte Thompson, Andy Foreman, Arabella Tregoning and Juliettte Knibbs
2022 Village Show - TBD August 2022

The 2020 Village Show has now been rescheduled for TBD August 2022.

Following the cancellation of the 2021 Village Show because of corona virus we are delighted to announce a new Village Show date of TBD August 2022. The show normally runs bi-annually so this moves it into the year we would normally not hold a show.

We plan to run the same programme as we were intending to run in 2020/1 so any preparation is not wasted! Watch out for more news in coming months as we prepare for the new date date.

We obviously hope that coronavirus will be behind us by then

Keep safe everyone

The Show Committee

See Village Show page for more information and the initial programme.

All of the Covid 19 Help information has been moved from this page to it's own page which can be accessed on the Covid 19 Help tab and

here

Somerley Recycling Centre

The Somerley recycling centre now requires pre-booking before arrival. A time slot can be booked here, click the link

Please be considerate over bonfires!

We continue to receive complaints of some residents burning their waste on bonfires. We would ask that residents be considerate to their neighbours and avoid having garden bonfires at this time.
Smoke from bonfires can aggravate health issues for vulnerable residents, cause additional stress to those trying to enjoy their outside space, and the risk from uncontrolled fires could impact on an already stretched fire service.
If you are subjected to the above; then, to maintain good neighbour relations, you may wish to discuss the matter with your neighbour(s) or the manager etc. of the neighbouring premises if it is a business, as they may not be aware that there is a problem.

NFDC advise residents to store their waste until it can be collected or composted. Should frequent bonfires which impact on another property continue to occur, residents may wish to make a formal complaint see

http://www.nfdc.gov.uk/bonfires

if it is a constant problem.

Household Waste Recycling Centre - Car Registration

Hampshire County Council are changing the ways that we are allowed to use Household Waste Recycling Centres such as Somerley. The centres will be installing Automatic Number Plate Recognition (ANPR) systems which will automatically check the council database for your registration. There is a need to pre-register your car. If your car is not registered there will be a £5 charge per visit. The £5 charge will apply to all those not registered or visiting from outside the Hampshire catchment area.

The link to register vehicles is
Whitsbury Calendar

With the cancellation of the Village Show we will defer the calendar until 2022. The calendar will be for the calendar year 2022. So we would like to ask everyone in the village to get involved and submit a photograph or two taken around the village that encompasses something of the village feel, a village landmark or favourite village view. A flyer as shown below has been circulated to all houses in the village and a new e-mail account set up at calendar@whitsbury.com to send entries or ask questions.

Events and Activities

If anyone wants to share an event please send an e-mail to admin@whitsbury.com with details and we can publish via these pages.

Viewing tips: Recent site changes are shown at the foot of this page if you go to a page and it doesn't seem to have updated if you 'Refresh' your browser the changes should become visible.
Upcoming Events
| | | | |
| --- | --- | --- | --- |
| Date | Description | Location | Time |
Site Updates and Recent Changes
19/08/2021 Tidy ups
26/08/2021 New edition of the Courier added, events updated
08/10/2021 Cancelled events added, event tidy up