Welcome to Whitsbury Village Website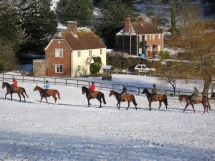 Here you will find information about our community. This website is intended to be a resource and knowledge hub for residents and visitors and anyone else who has an interest in Whitsbury. The Tabs on the left of this page will take you to sub pages of interest.
Latest Update: 2nd August 2020
Village News and Notices
Mohaather shows devastating turn of pace to win the Qatar Sussex Stakes
Well done and congratualtions to Marcus Tregoning and all at the Whitsbury Stables and Stud

Marcus Tregoning's warning that Mohaather was 'on fire' going into the Qatar Sussex Stakes proved spot-on as the colt burnt off his six rivals.
Courtesy of Daily Mail : See full article here
New Edition of The Courier Available

The Aug - Sept edition is available

here
Church Services have now resumed at St Leonards which is also available for individual reflection and prayer (Wednesdays and Sundays). See St Leonards page and events for church services including Zoom Services

Somerley Recycling Centre

The Somerley recycling centre now requires pre-booking before arrival. A time slot can be booked here, click the link

Whitsbury Broadband Connection - Good or Bad ?

How well does your Whitsbury broadband connection work?
There have been reports of the line dropping out and the home hub box re-synchronising between 5 and 10 times a day - does that happen to you?
If it does please let us know as we want to apply pressure to BT if there is a general issue. The more evidence we have the more compelling the case.

If you are experiencing problems please drop a note to Geoff Dominey who is collecting information on local issues, please e-mail

broadband@whitsbury.com

The NHS Responder Service is now available for Self activation and requests. Click on the poster below to open a full size version

Please be considerate over bonfires!

We continue to receive complaints of some residents burning their waste on bonfires. We would ask that residents be considerate to their neighbours and avoid having garden bonfires at this time.
Smoke from bonfires can aggravate health issues for vulnerable residents, cause additional stress to those trying to enjoy their outside space, and the risk from uncontrolled fires could impact on an already stretched fire service.
If you are subjected to the above; then, to maintain good neighbour relations, you may wish to discuss the matter with your neighbour(s) or the manager etc. of the neighbouring premises if it is a business, as they may not be aware that there is a problem.

NFDC advise residents to store their waste until it can be collected or composted. Should frequent bonfires which impact on another property continue to occur, residents may wish to make a formal complaint see

http://www.nfdc.gov.uk/bonfires

if it is a constant problem.

Whitsbury Newsletter

The Whitsbury helpers in conjunction with the Parish Council have circulated a Village Newsletter. This will be posted through the door of each village property. This has been specially issued for the current coronavirus situation and if you have ideas for a future issue please let us know at

admin@whitsbury.com

An electronic version can be found

here NEWSLETTER

Coronavirus and Community Support

As the coronavirus measures ease we are still able to help anyone that needs assistance. Everyone will have their own risk assessment of the current risks against their own particular circumstances and so individuals will be venturing out more. For the clinically vulnerable this may take some time and we are still here to help anyone that needs help. Please contact us through admin@whitsbury.com or one of the Whitsbury Helpers.
We are a close community and we wanted to make sure that everyone feels safe and supported as we navigate our way through the current coronavirus pandemic.
You will have had a leaflet and newsletter put through your door explaining that a group of us have formed a community support group to allow Whitsbury residents to reach out to for help or assistance if you are self isolating or are ill.

This has worked really well and we have managed to help a few of you over the last few weekss.

We are very happy to help villagers whether that be food shopping, prescription pickup, errands or just someone to chat with or wave through the window !! We can arrange for someone to check on you to make sure you are OK periodically especially if you are alone or in a higher risk group.
We will develop ideas and areas of help that can be provided as follows:

Food and Provisions
The Gourmet Grocer in Fordingbridge are happy to deliver to Whitsbury. They provide all dairy, fruit, vegetables, soups, ham and meats as well as jams and chutneys. Contact details are: Gourmet Grocer 01425 658007

thegourmetgrocer@outlook.com

. It seems the gourmet grocer will be delivering to Whitsbury on a Tuesday.
Note: this service is only available for those who are vulnerable or self isolating
The Cartwheel Pub can provide the following provisions

The Cartwheel will be providing take away food for their current menu see the pub web site below

Days and Times: Friday, Saturday 5-9pm and Sunday 12-3pm
Pre orders only as the pub will not be open to the public. So please phone to book a time slot so social distancing can happen. Pick up and payment will be at the front door of the pub.
Telephone 01725 518362 with your order, see

www.cartwheelinnwhitsbury.com

Milk, Bread, Almond Milk, Vegetable Boxes (Kale, cauliflower, swede, carrots, onions, potatoesetc) , Fruit Boxes (bananas, melon, apples, grapes, pears etc), Toliet Rolls, pasta, tinned goods
Some items need to be ordered before 11:00am for next day delivery
and of course there is beer that can be decanted !!
There is a collection box where you can pick up and maintain social isolation
There is a good quality butcher in Downton who will deliver to Whitsbury
Open 04:00 to 13:00 Mon to Fri, 04:00 to 09:00 Saturday

Price Farm Foods Delivery will also deliver to Whitsbury for meat products such as Beef, Pork, Chicken, Lamb, Gammon and curry sauces etc To order phone 01425 652228. Order before 2pm for next day non contact delivery. Minimum order of £15.00 and payment over the phone.
Fordingbridge Surgery is operating on a 5 day prescription waiting time see the following site for more details:
Social distancing is in place and the dispensary is available at the window to the left side of the main entrance.
Prescription collection can be co-ordinated through the Whitsbury Helper community group, please send an e-mail to

admin@whitsbury.com

and we can arrange for collection and delivery of yor medicines if your are self isolating or in the vulnerable group.
We just need to provide 2 days notice to the surgery dispensary by e-mail and then we will collect and deliver
A new drive through marquee has been installed at the doctors surgery so if you are vulnerable and need to have a blood test etc it can be done without the need to go into the surgery or even get out of the car. As you will have seen the risk is lowered if you are outside and not mixing with others.
Utilities
Garden waste collection (Green Bags) has recommenced
Glass collection is continuing for the moment
Post is now only being collected once a day from the village post box (am pickup)
If you have any suggestions queries or ideas please e-mail
admin@whitsbury.com
If you have a request for support please send a note to
admin@whitsbury.com
with some details and we'll be in contact,
we can collect prescriptions or get provisions if you run short.
Village Show The 2020 Show was cancelled due to Covid-19 and will be run in 2021. Date to follow.
Household Waste Recycling Centre - Car Registration
Hampshire County Council are changing the ways that we are allowed to use Household Waste Recycling Centres such as Somerley. The centres will be installing Automatic Number Plate Recognition (ANPR) systems which will automatically check the council database for your registration. There is a need to pre-register your car. If your car is not registered there will be a £5 charge per visit. The £5 charge will apply to all those not registered or visiting from outside the Hampshire catchment area.

The link to register vehicles is
Whitsbury Calendar

With the cancellation of the Village Show we will defer the calendar until 2022. The calendar will be for the calendar year 2022. So we would like to ask everyone in the village to get involved and submit a photograph or two taken around the village that encompasses something of the village feel, a village landmark or favourite village view. A flyer as shown below has been circulated to all houses in the village and a new e-mail account set up at calendar@whitsbury.com to send entries or ask questions.

Events and Activities

If anyone wants to share an event please send an e-mail to admin@whitsbury.com with details and we can publish via these pages.

Viewing tips: Recent site changes are shown at the foot of this page if you go to a page and it doesn't seem to have updated if you 'Refresh' your browser the changes should become visible.
Upcoming Events
| | | | |
| --- | --- | --- | --- |
| Date | Description | Location | Time |
| 9th August 2020 | Zoom Service - Morning Prayer | Zoom | 10:30 |
| 16th August 2020 | Zoom Service - Parish Communion | Zoom | 10:30 |
| 23rd August 2020 | Holy Communion (Traditional) | St Leonards | 08:30 |
| 23rd August 2020 | Zoom Service - All Age Holiday Praise | Zoom | 10:30 |
| 30th August 2020 | Zoom Service - Parish Communion | Zoom | 10:30 |
| 30th August 2020 | Zoom Service - Sung Evensong | Zoom | 17:00 |
| 6th September 2020 | Zoom Service - Yaize Style Communion | Zoom | 10:30 |
| 13th September 2020 | Zoom Service - Morning Prayer | Zoom | 10:30 |
| 20th September 2020 | Zoom Service - Morning Prayer | Zoom | 10:30 |
| 27th September | Harvest Thanks Giving and shortened Communion | St Leonards | 09:30 |
| 27th September | Zoom Service - Parish Communion | Zoom | 10:30 |
| 4th October 2020 | Zoom Service - Harvest Thanks Giving | Zoom | 10:30 |
| 26th October 2020 | Parish Council Meeting | Village Hall | 19:00 |
Site Updates and Recent Changes
28/06/2020 - Latest edition of the courier added, Somerley booking link added,
31/07/2020 - Mohaather headline added
02/08/2020 - Church Services updated and New edition of The courier added