Welcome to Whitsbury Village Website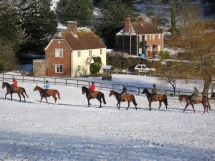 Here you will find information about our community. This website is intended to be a resource and knowledge hub for residents and visitors and anyone else who has an interest in Whitsbury.
Village News and Notices
Watch out for the scarecrows in Sandleheath. The annual competition runs from Sat 8th June to Sat 15th June

New Item on Sale or Swop

New small ad on sale or swap

May was Lyme Disease awareness month in the New Forest. A Tick awareness poster has been added to the Amenities and Services page, as below

Other recent additions you may wish to catch up with

New edition of The Courier added (See St Leonards Church page)

Parish Council Meeting Minutes added (See Parish Council page)

Events updated using Courier dates

Reporting problems to the County Councils item added

Whitsbury Calendar flyer added

How do we help improve the condition of the local road network?

If you see a problem report it.

In order to ensure road problems, pot holes and other poor conditions are resolved they should be reported through the County Council websites. If they are reported then action may be more quickly taken and the more reports the more likely action will be taken. This point isn't made very clear or generally publicised but was pointed out by Cllr Heron at the recent Parish Council meeting.

We live at the edge of 3 Council boundaries:

These have been added to the Amenities and Services page

Whitsbury Calendar

The next Village Show will be in 2020 and we wanted to do something different in preparation for that show which is to ceate a village calendar with photographs taken within the village boundary. The calendar will be for the calendar year 2021. So we would like to ask everyone in the village to get involved and submit a photograph or two taken around the village that encompasses something of the village feel, a village landmark or favourite village view. A flyer as shown below has been circulated to all houses in the village and a new e-mail account set up at calendar@whitsbury.com to send entries or ask questions.

The Cartwheel has now reopened following refurbishment see http://cartwheelinnwhitsbury.com/ for opening times. It will be open Thurs, Fri, Sat and Sun. Best to call ahead for a table 01725 518362.

Road Closure Whitsbury Road Fordingbridge

The temporary road closure is now in place on Whitsbury Road, Fordingbridge from Monday 21st March 2019 for 17 weeks, in order for Wessex Water to carry out sewer installation works. The works will be carried out in three phases and the alternative routes for diverted traffic will change as the works progress along the road. The three phases are shown in the Wessex Water plans below.

This will NOT take away access to Whitsbury from Fordingbridge but it does mean the stretch between Burnham Road and Pennys Lane will be fully closed in various stages. We will need to take diversions through the Burgate Housing estate.

Phase 1 appears to have completed a while ago and we are now into Phase 2

Click each thumnail below for the detailed map

Phase 1 - Appears Completed

Phase 2

Phase 3

Glass Recycling

Events and Activities

If anyone wants to share an event please send an e-mail to admin@whitsbury.com with details and we can publish via these pages.

Whitsbury Watch

On the Whitsbury Watch page you will find recent information from Hampshire Neighbourhood Watch for your information and security.

Viewing tips: Recent site changes are shown at the foot of this page if you go to a page and it doesn't seem to have updated if you 'Refresh' your browser the changes should become visible.
Upcoming Events
Date
Description
Location
Time
9th June 2019
Holy Communion (Day of Pentecost(Whitsunday))
St Leonards
08:30
23rd June 2019
Education Sunday (Sunday Club/Messy Church)
All are welcome for this Service at 11.00am at St Leonard's church, Whitsbury when we shall celebrate the life of learning in our communities. This year's theme is 'Interconnectedness' Children are most welcome for Sunday Club/Messy Church
St Leonards
11:00
8th July 2019
St Leonard PCC Benefice Meeting
Village Hall
18:30
14th July 2019
Holy Communion (1662)
St Leonards
08:30
28th July 2019
Parish Worship
St Leonards
11:00
29th July 2019
Parish Council Meeting
Village Hall
TBA
7th September 2019
Fun Night. Board Games & Darts for all the family with light refreshments (Tickets £5) (18:30 for 19:00)
Village Hall
18:30
28th October 2019
Parish Council Meeting
Village Hall
TBA
1st November 2019
Bingo: Tickets £6 and includes food (19:00 for 19:30)
Village Hall
19:00
13th December 2019
Sandleheath Band Concert - Tickets £4 including light refreshments
Village Hall
19:00
Please note: All tickets for the ticketed events must be paid for in advance for catering purposes. Pease advise if you have any dietary requirements/allergies so we can cater for your needs. To purchase tickets please contact Shirley Ellicot on 265.
Site Updates and Recent Changes
11/05/2019 This page updated
27/05/2019 This page updated, St Leonards updated, events updated, amenities updated,
02/06/2918 This page updated, St Leonards updated, events updated, Amenities page updated
04/06/2019 Sale or swop small ad added