Welcome to Whitsbury Village Website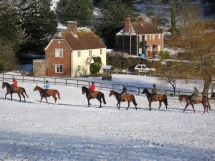 Here you will find information about our community. This website is intended to be a resource and knowledge hub for residents and visitors and anyone else who has an interest in Whitsbury.
Village News and Notices
The latest version of The Courier has been added to the St Leonards page.
The Village Show will be held on the 1st August 2020 so please keep that date free in your diaries. The Village Show tab at the side of the page has been updated to link to the new 2020 Show page. The old page is now archived. The Village Show tab will be used to provide information as we continue planning in the early part of the year. The committee is now meeting and planning the day and events.

An initial programme of categories for the Village Show page is now puclished. There are still some categories we are working but thought it would be a good idea to progressively publish. This will allow you to think about which categories you might enter in the early part of the year, start your knitting now !!!.

On Saturday 7th March we are planning a litter pick around the village to pick up any litter. The litter pick is being co-ordinated by the Whitsbury World group as part of our focus on the environment including our own locale.

The plan will be to meet at the Village Hall at 10:00am to get an area assigned to cover, some areas of the village are worst than others so we'll target the areas where we know there is litter.

As we have been investigating our local environment a discussion was held at the Parish Council meeting regarding the local farmer cluster group that promotes wildlife habitat on local farms for species of concern including birds and butterflies. We are pleased to let you know a talk is being arranged for the 23rd April at the Village Hall where an expert form the Game Conservancy will come along and explain the programme, it's objectives, methods and benefits. Also importantly how we can make our own gardens environmentally welcoming to some of this wildlife.
Minutes from the recent Parish Council meeting held on the 6th January can be found on the Parish Council page.

Household Waste Recycling Centre - Car Registration

Hampshire County Council are changing the ways that we are allowed to use Household Waste Recycling Centres such as Somerley. The centres will be installing Automatic Number Plate Recognition (ANPR) systems which will automatically check the council database for your registration. There is a need to pre-register your car. If your car is not registered there will be a £5 charge per visit. The £5 charge will apply to all those not registered or visiting from outside the Hampshire catchment area.

The link to register vehicles is
Whitsbury Calendar

The next Village Show will be in 2020 and we wanted to do something different in preparation for that show which is to ceate a village calendar with photographs taken within the village boundary. The calendar will be for the calendar year 2021. So we would like to ask everyone in the village to get involved and submit a photograph or two taken around the village that encompasses something of the village feel, a village landmark or favourite village view. A flyer as shown below has been circulated to all houses in the village and a new e-mail account set up at calendar@whitsbury.com to send entries or ask questions.

Events and Activities

If anyone wants to share an event please send an e-mail to admin@whitsbury.com with details and we can publish via these pages.

Viewing tips: Recent site changes are shown at the foot of this page if you go to a page and it doesn't seem to have updated if you 'Refresh' your browser the changes should become visible.
Upcoming Events
| | | | |
| --- | --- | --- | --- |
| Date | Description | Location | Time |
| 8th/9th February 2020 | Snowdrop Weekend - Snowdrops in the ancient churchyard - Refreshments and Stalls inside the church | St Georges Damerham | 12:00 to 16:00 |
| 9th February 2020 | Holy Communion (1662) | St Leonards | 08:30 |
| 23rd February 2020 | Parish Worship | St Leonards | 11:00 |
| 26th February 2020 | Humble Soup Lunch on Ash Wednesday | Damerham Village Hall | 12:00 till 13:30 |
| 7th March 2020 | Whitsbury Village Litter Pick | Village Hall | 10:00 |
| 8th March 2020 | Second Sunday of Lent - Holy Communion | St Leonards | 08:30 |
| 22nd March | Parish Worship | St Leonards | 11:00 |
| | | | |
| 30th March 2020 | Parish Council Meeting | Village Hall | 19:00 |
| 23rd April 2020 | Farming Cluster Talk | Village Hall | TBA |
| 18th May 2020 | Parish Council Meeting | Village Hall | 19:00 |
| 27th July 2020 | Parish Council Meeting | Village Hall | 19:00 |
| 1st August 2020 | Whitsbury Village Show | Village Hall | 12:00 |
| 26th October 2020 | Parish Council Meeting | Village Hall | 19:00 |
| | | | |
Please note: All tickets for the ticketed events must be paid for in advance for catering purposes. Pease advise if you have any dietary requirements/allergies so we can cater for your needs. To purchase tickets please contact Norwyn Manston (518564) or Hilary Sutton (518587).
Site Updates and Recent Changes
12/01/2020 This page updated, Parish council meeting minutes added, events updated
19/01/2020 This page updated, Village Show page revised, 2018 Show page now archived.
26/01/2020 Courier added to St Leonards, events updated, Initial show programme added