Welcome to Whitsbury Village Website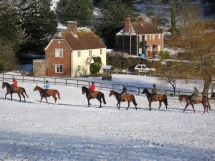 Here you will find information about our community. This website is intended to be a resource and knowledge hub for residents and visitors and anyone else who has an interest in Whitsbury. The Tabs on the left of this page will take you to sub pages of interest.
Latest Update: 6th April 2021
Village News and Notices
Parish Council Meeting Minutes

A Parish Council meeting was held on Monday 29th March, the minutes can be found here

New Edition of the Courier Available

The April/ May edition of The Courier can be found on the St Leonards Church page or

click here

Census Returns

Tens of thousands of people across Test Valley & The New Forest have already made sure they count when it comes to planning and provision of the key services we all rely upon, like GP surgeries, school places and hospital beds, by filling out their online census form.
However, it is vital everyone who hasn't yet responded does so as soon as possible now Census Day, March 21, has been and gone. Field officers are already out and about and will visit households who have not submitted their census this Easter weekend. The operation will reach its peak next week so more officers will be knocking at doors where our records show there has been no response.
Everyone is required by law to respond to the census and if you do so now you won't be fined. The census questionnaire is simple, straightforward, and safe to complete online. It only takes 10 minutes per person in a household.
The role of field officers is to give help and encouragement to those who have not yet filled in their census questionnaire online or on paper after Census Day and direct them to the support services they need. Field staff will never need to enter people's houses; they will always be socially distanced, be equipped with PPE and work in line with all government Guidance.
They will be operating in the same way as a postal or food delivery visit. They also carry ID to show they are genuinely working on the census. The census is a unique survey of all households in England and Wales. To be truly representative, it needs everyone to be counted. That includes people with second homes, If you've not been to your caravan, holiday let or city commuter pad because of lockdown, you still need to complete a census for all your properties – even if there's no-one there – so that we get an accurate picture of the entire housing stock.
If you need assistance to complete your Census, you can make an appointment with our local Census Support Centres, either over the phone or in person by calling 0300 555 1387 and someone will help you!
If anyone in the village would like someone local to help please call Steve Husher on 372.

Spring Newsletter Available

We hope you enjoy the latest village newsletter it will be delivered to all houses in the village as a paper version.

If you would prefer an electronic version a PDF version can be

downloaded here

.

Village Flowers

Flowers are really blooming around the village with snop drops coming to an end and daffodils now in ful bloom. There is a tremendous display on the western footpath from Lower Grove towards Rockbourne.

Verge Management Wildlife Corridor Trial

On the southern approach to the Village between Whitsbury Cross and and the Whitsbury village sign you may have noticed a marked off area. This will be managed to promote wild flower growth and, we hope, be the start of a wildlife corridor. Typical modern verge management consists of cutting back at random times of the year and leaving the cuttings. These fertilise the ground , providing an ideal environment for the more robust growth (nettles, bracken) which outperform the more delicate flower species. The plan is to cut once before the growing season (early February) and and once after the wildflowers have seeded (late summer). All cuttings will be raked to the back of the verge under the hedge in an attempt to reduce the fertility…

This is closer to the way meadows were managed before machine cutting became the norm. By doing this we hope to see a re-emergence of wild flowers, insects, invertebrates and small mammals that can take advantage of this approach.
So far we have cut back the verge and marked it off. We are working with Hampshire County Council to make that section of verge is left so we can manage it ourselves.
We aim to monitor changes over a season or two. If successful we will look to extend the approach to a wider length of the verge.
See below the cutting back on a particularly cold Feb Sunday morning !!

Church Opening Times

The church is now open for reflection and prayer on Wednesdays and Sundays from about 09:00am to dusk.

Note: All church services are currently held by Zoom see St Leonards page for more information

Support in Latest Lockdown

If anyone in the village needs any support during this latest lockdown such as shopping, prescription pick up, or a phone chat etc then please let us know contact a Whitsbury Helper or contact us through

admin@whitsbury.com

and we will help as we can. it's great to be in such a close community so we are here to help each other.

Whitsbury Helpers are Steve Husher, Charlotte Thompson, Andy Foreman, Arabella Tregoning, Juliettte Knibbs and Gemma Hearsum

New Items aded to Sell or Swop

Pine cupboard and Sofa for sale

The Cartwheel is open for Take Aways

The Cartwheel will return to take aways from Friday January 1st only following the New Forest being placed in National lockdown.
Opening times will be Friday and Saturday 17:00 to 20:00 and Sunday 12:00 to 15:00
Support your local pub by using this excellent service.
Watch Out For Your Valuables

There have been reports of a theft in the village from a car by what would seem like an opportunist thief. Be aware everyone and keep everything as secure as you can especially work equipment and tools etc. Whitsbury Watch Whatsapp group can be used to warn others.

Whitsbury Newsletter Spring 2021

We have published a spring newsletter which has been delivered to all in the village. The plan is to issue a new newsletter every 3 to 6 months to bring you up to date on village activities. For those who would like an electronic version a PDF version can be

found here

.

2021 Village Show - 7th Augut 2021

The 2020 Village Show has now been rescheduled for 7th August 2021.

Following the cancellation of the 2020 Village Show because of corona virus we are delighted to announce a new Village Show date of 7th August 2021. The show normally runs bi-annually so this moves it into the year we would normally not hold a show.

We plan to run the same programme as we were intending to run in 2020 so any preparation is not wasted! Watch out for more news in coming months as we prepare for the new date date.

We obviously do not know what the Covid-19 situation will be by then so we will undertake risk assessments in line with goverment guidance closer to the time.

Keep safe everyone

The Show Committee

See Village Show page for more information and the initial programme.

All of the Covid 19 Help information has been moved from this page to it's own page which can be accessed on the Covid 19 Help tab and

here

Somerley Recycling Centre

The Somerley recycling centre now requires pre-booking before arrival. A time slot can be booked here, click the link

Please be considerate over bonfires!

We continue to receive complaints of some residents burning their waste on bonfires. We would ask that residents be considerate to their neighbours and avoid having garden bonfires at this time.
Smoke from bonfires can aggravate health issues for vulnerable residents, cause additional stress to those trying to enjoy their outside space, and the risk from uncontrolled fires could impact on an already stretched fire service.
If you are subjected to the above; then, to maintain good neighbour relations, you may wish to discuss the matter with your neighbour(s) or the manager etc. of the neighbouring premises if it is a business, as they may not be aware that there is a problem.

NFDC advise residents to store their waste until it can be collected or composted. Should frequent bonfires which impact on another property continue to occur, residents may wish to make a formal complaint see

http://www.nfdc.gov.uk/bonfires

if it is a constant problem.

Whitsbury Newsletter

Village Show The 2020 Show was cancelled due to Covid-19 and will be run in 2021. Date to follow.

Household Waste Recycling Centre - Car Registration

Hampshire County Council are changing the ways that we are allowed to use Household Waste Recycling Centres such as Somerley. The centres will be installing Automatic Number Plate Recognition (ANPR) systems which will automatically check the council database for your registration. There is a need to pre-register your car. If your car is not registered there will be a £5 charge per visit. The £5 charge will apply to all those not registered or visiting from outside the Hampshire catchment area.

The link to register vehicles is
Whitsbury Calendar

With the cancellation of the Village Show we will defer the calendar until 2022. The calendar will be for the calendar year 2022. So we would like to ask everyone in the village to get involved and submit a photograph or two taken around the village that encompasses something of the village feel, a village landmark or favourite village view. A flyer as shown below has been circulated to all houses in the village and a new e-mail account set up at calendar@whitsbury.com to send entries or ask questions.

Events and Activities

If anyone wants to share an event please send an e-mail to admin@whitsbury.com with details and we can publish via these pages.

Viewing tips: Recent site changes are shown at the foot of this page if you go to a page and it doesn't seem to have updated if you 'Refresh' your browser the changes should become visible.
Upcoming Events
| | | | |
| --- | --- | --- | --- |
| Date | Description | Location | Time |
Site Updates and Recent Changes
16/02/2021 Lucy Just Giving added and Verge article added
18/02/2021 Mike and Linda Farewell added and sell or sowp item added
20/03/2021 Newsletter, Village Flowers and Census
06/04/2021 PC Minutes added, Courier added, cencus updated