Welcome to Whitsbury Village Website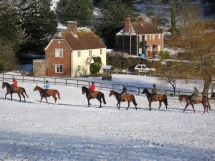 Here you will find information about our community. This website is intended to be a resource and knowledge hub for residents and visitors and anyone else who has an interest in Whitsbury.
Latest Update: 1st April 2020
Village News and Notices
New Edition of the Courier Posted

The latest edition of the Courier the newsletter for the communities of the Western Downland has been posted on the St Leonards church page.

Take care with your vegetable patches !! A report has come in of a row of carrots being taken from a veg patch in a garden! Now this was either peter rabbitt or a nefarious soul who was looking for nourishment. So keep an eye out on your patches and protect them.
Coronavirus and Community Support

We are a close community and we wanted to make sure that everyone feels safe and supported as we navigate our way through the current coronavirus pandemic.
You will have had a leaflet put through your door explaining that a group of us have formed a community support group to allow Whitsbury residents to reach out to for help or assistance if you are self isolating or are ill.

This has worked really well and we have managed to help a few of you over the last few days.

We are looking to see what measures can be taken to help villagers whether that be food shopping, prescription pickup, errands or just someone to chat with or wave through the window !! We can arrange for someone to check on you to make sure you are OK periodically especially if you are alone or in a higher risk group.
We will develop ideas and areas of help that can be provided as follows:
Food and Provisions
The Gourmet Grocer in Fordingbridge are happy to deliver to Whitsbury. They provide all dairy, fruit, vegetables, soups, ham and meats as well as jams and chutneys. Contact details are: Gourmet Grocer 01425 658007

thegourmetgrocer@outlook.com

. It seems the gourmet grocer will be delivering to Whitsbury on a Tuesday.
Note: this service is only available for those who are vulnerable or self isolating
The Cartwheel Pub can provide the following provisions

The Cartwheel will be providing take away food as per the menu below:

Days and Times: Friday, Saturday 5-9pm and Sunday 12-3pm
Pre orders only as the pub will not be open to the public. So please phone to book a time slot so social distancing can happen. Pick up and payment will be at the front door of the pub.
Telephone 01725 518362 with your order from Friday morning, see www.cartwheelinnwhitsbury.com

Milk, Bread, Almond Milk, Vegetable Boxes (Kale, cauliflower, swede, carrots, onions, potatoesetc) , Fruit Boxes (bananas, melon, apples, grapes, pears etc), Toliet Rolls, pasta, tinned goods
Some items need to be ordered before 11:00am for next day delivery
and of course there is beer that can be decanted !!
There is a collection box where you can pick up and maintain social isolation

There is a good quality butcher in Downton who will deliver to Whitsbury
Open 04:00 to 13:00 Mon to Fri, 04:00 to 09:00 Saturday

Price Farm Foods Delivery will also deliver to Whitsbury for meat products such as Beef, Pork, Chicken, Lamb, Gammon and curry sauces etc To order phone 01425 652228. Order before 2pm for next day non contact delivery. Minimum order of £15.00 and payment over the phone.
Fordingbridge Surgery is operating on a 5 day prescription waiting time see the following site for more details:
Social distancing is in place and the dispensary is available at the window to the left side of the main entrance.
Utilities
Garden waste collection (Green Bags) is now suspended
Post is now only being collected once a day from the village post box (am pickup)
Other Services
Fordingbridge bookshop will deliver books if you run out of things to read! 01425 653725. Credit cards will be accepted over the phone
If you have any suggestions queries or ideas please e-mail
admin@whitsbury.com
If you have a request for support please send a note to
admin@whitsbury.com

with some details and we'll be in contact,

we can collect prescriptions or get provisions if you run short.
The Village Show will be held on the 1st August 2020 so please keep that date free in your diaries. The Village Show tab at the side of the page has been updated to link to the new 2020 Show page. The old page is now archived. The Village Show tab will be used to provide information as we continue planning in the early part of the year. The committee is now meeting and planning the day and events. An initial programme of categories for the Village Show page is now puclished. There are still some categories we are working but thought it would be a good idea to progressively publish. This will allow you to think about which categories you might enter in the early part of the year, start your knitting now !!!. Childrens categories now added
As we have been investigating our local environment a discussion was held at the Parish Council meeting regarding the local farmer cluster group that promotes wildlife habitat on local farms for species of concern including birds and butterflies. We are pleased to let you know a talk is being arranged for the 23rd April at the Village Hall where an expert form the Game Conservancy will come along and explain the programme, it's objectives, methods and benefits. Also importantly how we can make our own gardens environmentally welcoming to some of this wildlife.

Household Waste Recycling Centre - Car Registration
Hampshire County Council are changing the ways that we are allowed to use Household Waste Recycling Centres such as Somerley. The centres will be installing Automatic Number Plate Recognition (ANPR) systems which will automatically check the council database for your registration. There is a need to pre-register your car. If your car is not registered there will be a £5 charge per visit. The £5 charge will apply to all those not registered or visiting from outside the Hampshire catchment area.

The link to register vehicles is
Whitsbury Calendar

The next Village Show will be in 2020 and we wanted to do something different in preparation for that show which is to ceate a village calendar with photographs taken within the village boundary. The calendar will be for the calendar year 2021. So we would like to ask everyone in the village to get involved and submit a photograph or two taken around the village that encompasses something of the village feel, a village landmark or favourite village view. A flyer as shown below has been circulated to all houses in the village and a new e-mail account set up at calendar@whitsbury.com to send entries or ask questions.

Events and Activities

If anyone wants to share an event please send an e-mail to admin@whitsbury.com with details and we can publish via these pages.

Viewing tips: Recent site changes are shown at the foot of this page if you go to a page and it doesn't seem to have updated if you 'Refresh' your browser the changes should become visible.
Upcoming Events
| | | | |
| --- | --- | --- | --- |
| Date | Description | Location | Time |
| 24th April 2020 | Farming Cluster Talk | Village Hall | TBA |
| 18th May 2020 | Parish Council Meeting | Village Hall | 19:00 |
| 27th July 2020 | Parish Council Meeting | Village Hall | 19:00 |
| 1st August 2020 | Whitsbury Village Show | Village Hall | 12:00 |
| 26th October 2020 | Parish Council Meeting | Village Hall | 19:00 |
| | | | |
Site Updates and Recent Changes
12/03/2020 Bingo Cancelled, date for Farm Cluster talk amended
28/03/2020 New edition of The Courier posted
01/04/2020 This page updated