Welcome to Whitsbury Village Website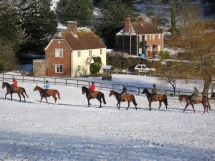 Here you will find information about our community. This website is intended to be a resource and knowledge hub for residents and visitors and anyone else who has an interest in Whitsbury.
Latest Update: 15th May 2020
Village News and Notices
Parish Council Meeting - Cancelled

The next Parish Council meeting was scheduled for 18th May 2020 in the Village Hall
Due to the current social distancing rules and thinking of everyones safety this meeting is cancelled.
It was due to be the Annual Meeting so this aspect will be postponed until the 27th July meeting.

Somerley Recycling Centre

Hampshire County Council have now re-opened recycling centres details as follows:
The County Council has reopened their HWRCs (tips) for those who cannot continue to safely store their waste at home.

If you can hold on to your waste a little longer, please do. There are important changes to be aware of:

https://www.hants.gov.uk/News/060502020HWRC

Please only leave your home to visit if it is absolutely essential and only go if you can't store waste safely at home at this time. If you do have to visit, be aware there are new safety measures in place including less vehicles being allowed on site at any one time so please be patient

New Forest District Council Update

NFDC have also sent out an information e-mail that can be viewed here.

NFDC Information e-mail

. Not sure what the distribution list would be for this so have included it here in case you didn't get it.

The NHS Responder Service is now available for Self activation and requests. Click on the poster below to open a full size version

Verge Cutting on Fordingbridge Road

We had started an initiative via the Parish Counci to improve the widlife friendliness of our verges coming into and out of the village. We had agreed that the verges wuld not be cut back but they would be managed to keep them wildife friendly.
Unfortunately you may have noticed they have been partially cut. This was because of a communication problem somewhere along the line that has now been resolved so we will move to managed verges from now on.

Please be considerate over bonfires!

We continue to receive complaints of some residents burning their waste on bonfires. We would ask that residents be considerate to their neighbours and avoid having garden bonfires at this time.
Smoke from bonfires can aggravate health issues for vulnerable residents, cause additional stress to those trying to enjoy their outside space, and the risk from uncontrolled fires could impact on an already stretched fire service.
If you are subjected to the above; then, to maintain good neighbour relations, you may wish to discuss the matter with your neighbour(s) or the manager etc. of the neighbouring premises if it is a business, as they may not be aware that there is a problem.

NFDC advise residents to store their waste until it can be collected or composted. Should frequent bonfires which impact on another property continue to occur, residents may wish to make a formal complaint see

http://www.nfdc.gov.uk/bonfires

if it is a constant problem.

Whitsbury Newsletter

The Whitsbury helpers in conjunction with the Parish Council have circulated a Village Newsletter. This will be posted through the door of each village property. This has been specially issued for the current coronavirus situation and if you have ideas for a future issue please let us know at

admin@whitsbury.com

An electronic version can be found

here NEWSLETTER

Coronavirus and Community Support

We are a close community and we wanted to make sure that everyone feels safe and supported as we navigate our way through the current coronavirus pandemic.
You will have had a leaflet and newsletter put through your door explaining that a group of us have formed a community support group to allow Whitsbury residents to reach out to for help or assistance if you are self isolating or are ill.

This has worked really well and we have managed to help a few of you over the last few weekss.

We are very happy to help villagers whether that be food shopping, prescription pickup, errands or just someone to chat with or wave through the window !! We can arrange for someone to check on you to make sure you are OK periodically especially if you are alone or in a higher risk group.
We will develop ideas and areas of help that can be provided as follows:
Food and Provisions
The Gourmet Grocer in Fordingbridge are happy to deliver to Whitsbury. They provide all dairy, fruit, vegetables, soups, ham and meats as well as jams and chutneys. Contact details are: Gourmet Grocer 01425 658007

thegourmetgrocer@outlook.com

. It seems the gourmet grocer will be delivering to Whitsbury on a Tuesday.
Note: this service is only available for those who are vulnerable or self isolating
The Cartwheel Pub can provide the following provisions

The Cartwheel will be providing take away food for their current menu see the pub web site below

Days and Times: Friday, Saturday 5-9pm and Sunday 12-3pm
Pre orders only as the pub will not be open to the public. So please phone to book a time slot so social distancing can happen. Pick up and payment will be at the front door of the pub.
Telephone 01725 518362 with your order, see

www.cartwheelinnwhitsbury.com

Milk, Bread, Almond Milk, Vegetable Boxes (Kale, cauliflower, swede, carrots, onions, potatoesetc) , Fruit Boxes (bananas, melon, apples, grapes, pears etc), Toliet Rolls, pasta, tinned goods
Some items need to be ordered before 11:00am for next day delivery
and of course there is beer that can be decanted !!
There is a collection box where you can pick up and maintain social isolation
There is a good quality butcher in Downton who will deliver to Whitsbury
Open 04:00 to 13:00 Mon to Fri, 04:00 to 09:00 Saturday

Price Farm Foods Delivery will also deliver to Whitsbury for meat products such as Beef, Pork, Chicken, Lamb, Gammon and curry sauces etc To order phone 01425 652228. Order before 2pm for next day non contact delivery. Minimum order of £15.00 and payment over the phone.
Fordingbridge Surgery is operating on a 5 day prescription waiting time see the following site for more details:
Social distancing is in place and the dispensary is available at the window to the left side of the main entrance.
Prescription collection can be co-ordinated through the Whitsbury Helper community group, please send an e-mail to

admin@whitsbury.com

and we can arrange for collection and delivery of yor medicines if your are self isolating or in the vulnerable group.
We just need to provide 2 days notice to the surgery dispensary by e-mail and then we will collect and deliver
A new drive through marquee has been installed at the doctors surgery so if you are vulnerable and need to have a blood test etc it can be done without the need to go into the surgery or even get out of the car. As you will have seen the risk is lowered if you are outside and not mixing with others.
Utilities
Garden waste collection (Green Bags) has recommenced
Glass collection is continuing for the moment
Post is now only being collected once a day from the village post box (am pickup)
If you have any suggestions queries or ideas please e-mail
admin@whitsbury.com
If you have a request for support please send a note to
admin@whitsbury.com
with some details and we'll be in contact,
we can collect prescriptions or get provisions if you run short.
Village Show 1st August 2020 - This date is under review because of the current restrictions. The Show committe will make a final decision at the end of May once we can see what the next steps are beyond lockdown.
The Village Show will be held on the 1st August 2020 so please keep that date free in your diaries. The Village Show tab at the side of the page has been updated to link to the new 2020 Show page. The old page is now archived. The Village Show tab will be used to provide information as we continue planning in the early part of the year. The committee is now meeting and planning the day and events. An initial programme of categories for the Village Show page is now puclished. There are still some categories we are working but thought it would be a good idea to progressively publish. This will allow you to think about which categories you might enter in the early part of the year, start your knitting now !!!. Childrens categories now added
As we have been investigating our local environment a discussion was held at the Parish Council meeting regarding the local farmer cluster group that promotes wildlife habitat on local farms for species of concern including birds and butterflies. We are pleased to let you know a talk is being arranged for the 23rd April at the Village Hall where an expert form the Game Conservancy will come along and explain the programme, it's objectives, methods and benefits. Also importantly how we can make our own gardens environmentally welcoming to some of this wildlife.
Household Waste Recycling Centre - Car Registration
Hampshire County Council are changing the ways that we are allowed to use Household Waste Recycling Centres such as Somerley. The centres will be installing Automatic Number Plate Recognition (ANPR) systems which will automatically check the council database for your registration. There is a need to pre-register your car. If your car is not registered there will be a £5 charge per visit. The £5 charge will apply to all those not registered or visiting from outside the Hampshire catchment area.

The link to register vehicles is
Whitsbury Calendar

The next Village Show will be in 2020 and we wanted to do something different in preparation for that show which is to ceate a village calendar with photographs taken within the village boundary. The calendar will be for the calendar year 2021. So we would like to ask everyone in the village to get involved and submit a photograph or two taken around the village that encompasses something of the village feel, a village landmark or favourite village view. A flyer as shown below has been circulated to all houses in the village and a new e-mail account set up at calendar@whitsbury.com to send entries or ask questions.

Events and Activities

If anyone wants to share an event please send an e-mail to admin@whitsbury.com with details and we can publish via these pages.

Viewing tips: Recent site changes are shown at the foot of this page if you go to a page and it doesn't seem to have updated if you 'Refresh' your browser the changes should become visible.
Upcoming Events
Date
Description
Location
Time
18th May 2020
Parish Council Meeting

- CANCELLED

Village Hall
19:00
27th July 2020
Parish Council Meeting
Village Hall
19:00
1st August 2020
Whitsbury Village Show
Village Hall
12:00
26th October 2020
Parish Council Meeting
Village Hall
19:00
Site Updates and Recent Changes
03/05/2020 - Minor updates
12/05/2020 - NFDC Update, NHS Responder and verges added
15/05/2020 - Parish Council Meetig cancelled