Whitsbury History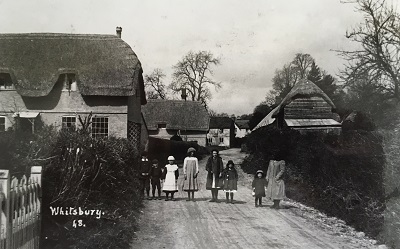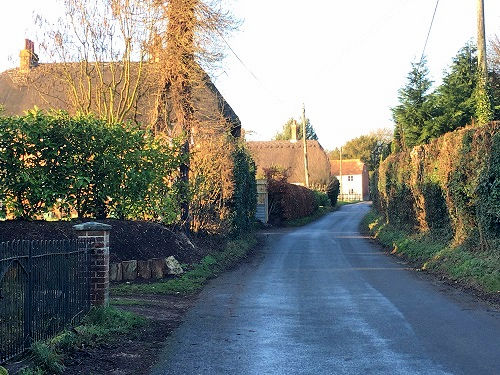 This attractive linear village forms part of the group of villages on the edge of the Cranborne Chase and West Wiltshire Downs Area of Outstanding Natural Beauty. The village street with its hedges and low walls winds its way up to the wooded slopes of the Iron Age hill fort, a scheduled ancient monument. Perched above the straggling village of thatched timber-framed cottages and farms is the ancient stone and brick church of St Leonard with the old rectory alongside. Glebe House is a fine gentleman's residence dating from the 18th century in its small park. Carpenter's and Nippard's are good examples of 18th century brick farmhouses almost certainly encasing much earlier buildings while the turn of the century is represented by the typical red brick chapel and village hall. In spite of some modern development which has taken place just outside the conservation area the street scene has changed little in the last hundred years or so, see photos above as proof!!.
Whitsbury Castle Ditches
Whitsbury Castle, or Whitsbury Castle Ditches, is the site of an Iron Age univallate hillfort located near the village of Whitsbury in Hampshire. The fort is roughly pear-shaped, located on a chalk outcrop, and covering approximately sixteen acres. The defenses comprise two large ramparts with outer ditches and an additional counter scarp bank on the northern half.[1] The original entrance was at the southwestern corner but has been destroyed by the construction of a post-medieval manor house. The site has been in use throughout the ages, with excavation revealing mesolithic activity, an association with a Bronze Age ranch boundary, an Iron Age hillfort settlement, followed much later by Anglo-Saxon renovation and reuse of the defences.[2] The site is privately owned but is flanked externally on all sides but east by public bridleways.
The site is listed as a scheduled ancient monument no.94.
A paper of the excavation of the ditches in 1960 is available here.
Whitsbury Manor Farm Stud
Established in 1948, Whitsbury Manor Stud has a long tradition in regularly producing highly successful international horses.
The Cartwheel Inn
The pub is in the heart of the village.
Links to Sources of information on Whitsbury and it's History