Environment and Climate Change
One of the things we can all do to to help with climate change is to recycle more. If we can help break the cycle of single use containers into waste for landfill by recycling we can reduce the total energy and resources used. Overall energy reduction means less energy to create the next batch of plastic which saves energy and the plastic material resource itself. This saves on the carbon footprint, reduces overall waste and reduces contamination and reduces emissions into the atmosphere.
This set of pages has useful information on recycling and other initiatives to help the environment.
Plastics Recycling
Have you wondered whether a plastic container can be recycled, below is a useful infographic of the plastic markings on containers and whether they can be recycled. We'll investigate and let you know which can be recycled locally by type.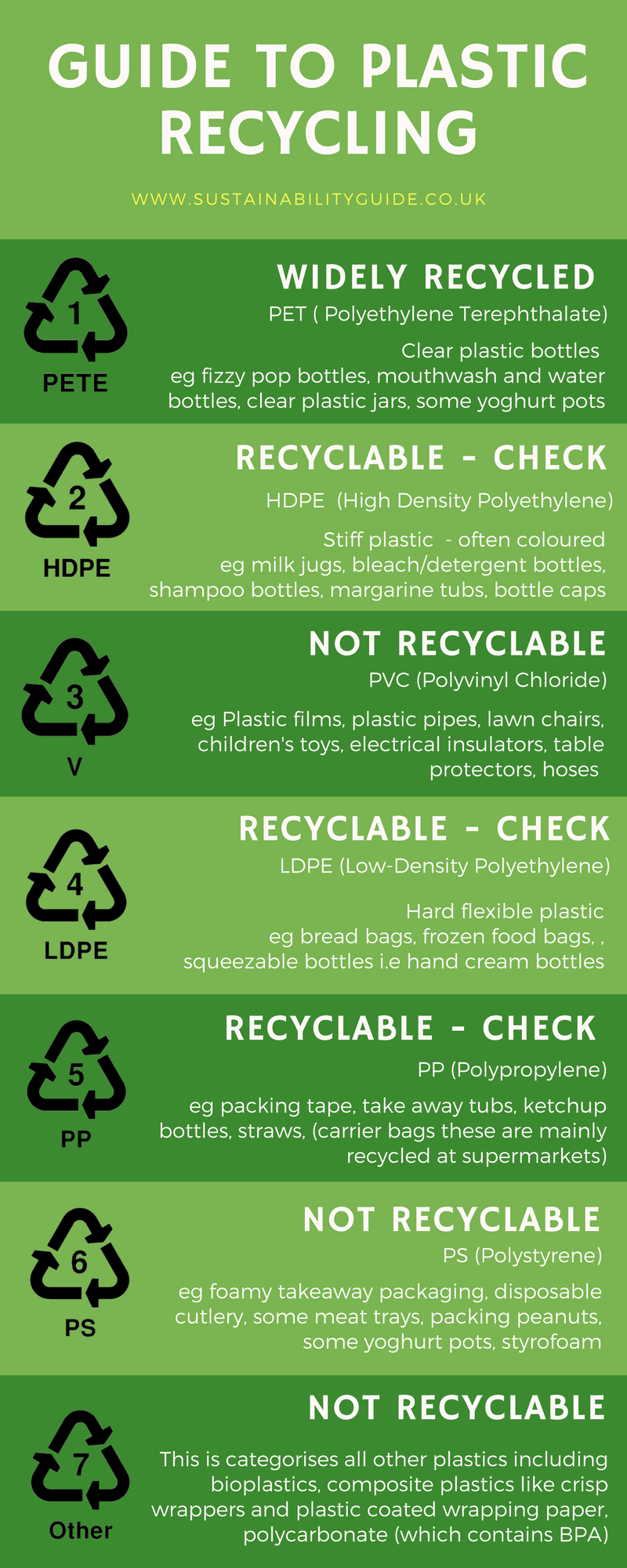 Ecobriks
Ever wondered what else you could do with your plastics well heres a neat idea make an EcoBrick.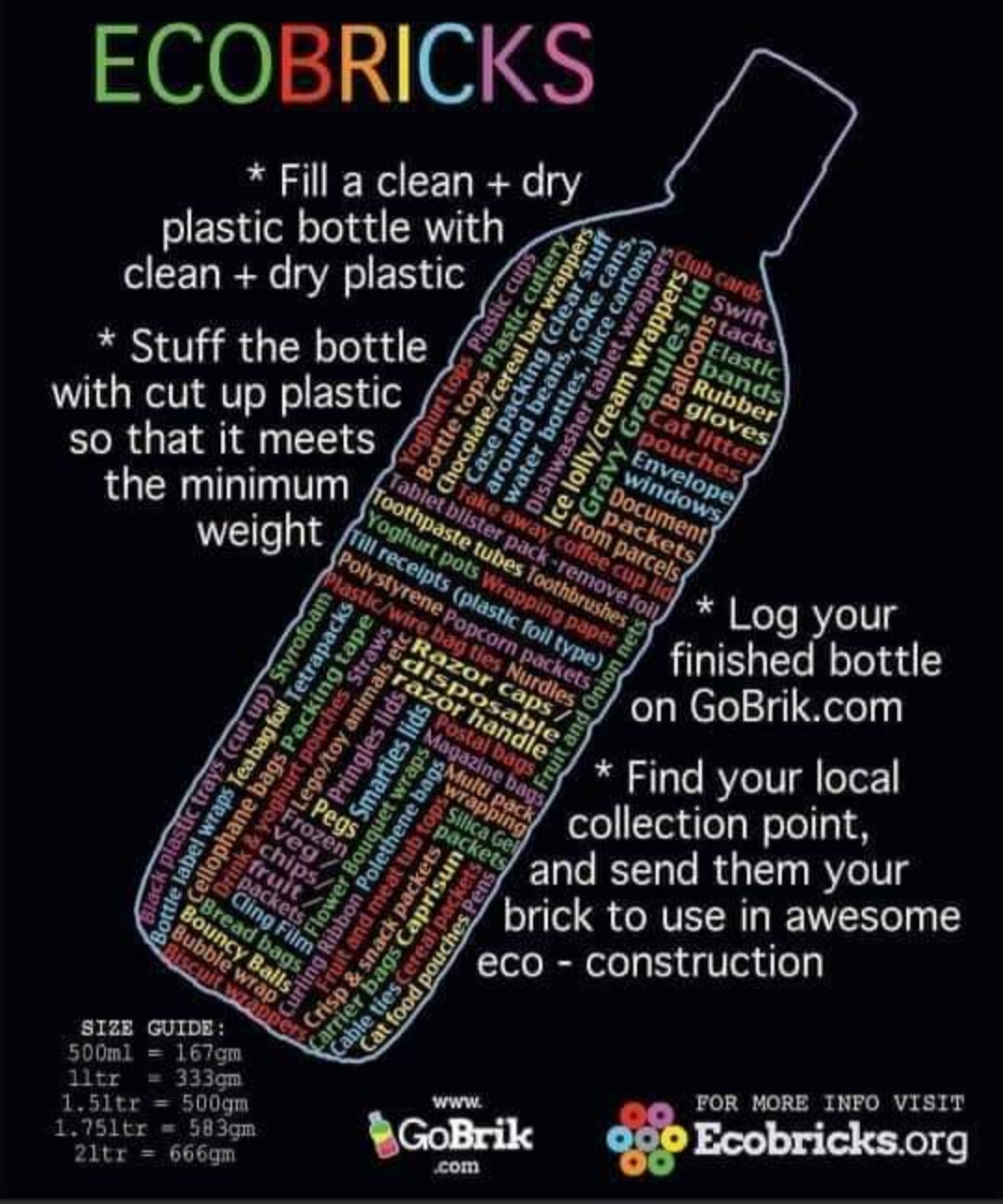 Recycling Information
Although we put our green boxes out each week you may have other waste that you are sure must be recycleable please see the extensive list below of locations to take recycleable waste to.
Item
Location/Contact
Notes
Aluminium
Somerley Waste Recycling Centre
Aluminium foil
St Boniface Church, Woodgreen
Morrisons, Verwood
Animal Waste
Somerley Waste Recycling Centre
Must be double-bagged; max 2 bags a day
Baby Food pouches and caps
New Forest Live at Home
"Ella's" brand only
Ballpoint and felt-tip pens
New Forest Live at Home
Burgate School (Terracycle)
Downton Recycling
Baths
Somerley Waste Recycling Centre
Batteries
Co-op
Lidl Ringwood
St Boniface Church, Woodgreen
Domestic only, not vehicle, leisure, powertool, etc.
Batteries

Somerley Waste Recycling Centre
domestic, vehicle, power tools
Bedding and sleeping bags
Somerley Waste Recycling Centre
Belts
St Boniface Church, Woodgreen
Leather and canvas only
Biscuit packets
New Forest Live at Home
Kerrie Grove
Downton Recycling
See below for acceptable brands
See below for acceptable brands
Bottle tops, plastic
St Mary's Church
St Boniface Church, Woodgreen
Downton Recycling
Wilton Riding for the Disabled
Clean milk bottle tops only
Clean milk bottle tops only
Clean milk bottle tops only
Clean milk bottle tops only
Brassieres (Bras)
Downton Recycling
Clean and in usable condition
Bread bags

New Forest Live at Home
Kerrie Grove
Plastic bags only
Cans, tins, and metal aerosols
Domestic waste recycling
Car park recycling bins
Cardboard
Somerley Waste Recycling Centre
Carpets
Somerley Waste Recycling Centre
CDs and DVDs
St Boniface Church, Woodgreen
Christmas Trees
Car park recycling bins
Somerley Waste Recycling Centre
real trees only
Clothing
Car park recycling bins
Charity shops
Clothes swap
Charity bags
Coffee pods
Nationwide

Tassimo and L'Or only
Coins
St Boniface Church, Woodgreen
Contact lens containers
AJ Bass
Cooking Oil
Somerley Waste Recycling Centre
Corks

St Boniface Church, Woodgreen
Recorked UK
Crisp multipack bags
Kerrie Grove
Crisp packets, single
Gourmet Grocer
New Forest Live at Home

Folded flat only please: no origami!
Egg Boxes
St Boniface Church, Woodgreen
Elastic bands
Royal Mail
Post Office bands only
Simon Dorrington (FGL) has offered to collect these
Electrical Equipment and Appliances
Somerley Waste Recycling Centre
Engine Oil
Somerley Waste Recycling Centre
Sealed container; max 10 litres/month
Fire Extinguishers
Somerley Waste Recycling Centre
Only if manufacturer does not take them back
Fridges and Freezers
Somerley Waste Recycling Centre
Furniture
Garden Waste
Somerley Waste Recycling Centre
Gas bottles
Somerley Waste Recycling Centre
Max 15 kg
Glass bottles and jars
Domestic monthly collection
Car park recycling bins
Inhalers
Any Pharmacy
iPods
St Boniface Church, Woodgreen
Light Bulbs
Somerley Waste Recycling Centre
Downton Recycling



Low-energy (CFL) only

Mattresses
British Heart Foundation
British Red Cross
https://www.collectyouroldbed.com
If useable
If useable
Will collect and recycle; costs from £11.99
Metal foil
Somerley Waste Recycling Centre
Including take-away containers
Milk bottle foil tops
Kerrie Grove

Mobile Phones
St Boniface Church, Woodgreen
Somerley Waste Recycling Centre
Neckties
St Boniface Church, Woodgreen
Paint
Somerley Waste Recycling Centre
Sealed container, max 5 litre/month
Pet food pouches
New Forest Live at Home
Purr and Miaow
Plant pots
St Boniface Church, Woodgreen
Downton Recycling
Small only
Small only, clean
Plant pots
Stewarts Garden Centres
Only if marked PS(6) or PP(5) – NOT if marked PETE(1), HDPE(2), V(3), LDPE(4), or Other (7)

Plasterboard
Somerley Waste Recycling Centre
Not free; see website for charges
Popcorn packet
Gourmet Grocer
Kerrie Grove
New Forest Live at Home
Postage Stamps
St Boniface Church, Woodgreen
Downton Recycling
Pringles tubes
Gourmet Grocer
New Forest Live at Home
"genuine" Pringles only
Printer and Toner Cartridges
Somerley Waste Recycling Centre
Downton Recycling
Records (LPs and 45s)
Somerley Waste Recycling Centre
Ring Pulls (from drinks cans)
St Boniface Church, Woodgreen
Downton Recycling
Rubble
Somerley Waste Recycling Centre
Not free; see website for charges
Scrap metal
Somerley Waste Recycling Centre
SCUBA air bottles
Somerley Waste Recycling Centre
Sinks and toilets
Somerley Waste Recycling Centre
Not free; see website for charges
Snack packets
New Forest Live at Home
Kerrie Grove
See respective URLs

(below) for which brands are accepted
Soil
Somerley Waste Recycling Centre
Not free; see website for charges
Spectacles
AJ Bass
Downton Recycling
Also accept broken spectacles
Textiles
Somerley Waste Recycling Centre
Toothbrushes
New Forest Live at Home
Downton Recycling
Toothpaste tubes
New Forest Live at Home
Downton Recycling
Wallpaper
Somerley Waste Recycling Centre
Water filter cartridges
St Boniface Church, Woodgreen
Downton Recycling
Wood
Somerley Waste Recycling Centre
Wool

St Boniface Church, Woodgreen
yarn, not fleece!
Links and Addresses:
Downton Mini-Recycling Centre: Downton Baptist Church, South Lane, Downton, SP5 3NA
Royal Mail Elastic Band Freepost: Royal Mail, Rubber Band Recycling Department, Freepost, Tomb Street, Belfast BT1 1AA

Somerley Waste Recycling Centre: https://www.hants.gov.uk/wasteandrecycling/recyclingcentres/hwrcfinder/Somerley